The background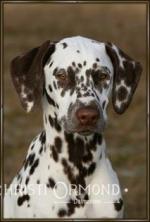 "Christi ORMOND Exclusive Choise" (called Choise)
Our "Christi ORMOND E-Litter" was born on 19.07.2008. We hoped for our future breeding very much from this particular litter with our brood bitch "Mochaccino Dalmatian Dream (called Mocha) and the beautiful, typey stud dog who has a wonderful temperament," Spotnik's Viking Viktory "(called Vic). Because of that were we are particularly pleased that our longtime friends Petra and Norbert Martin from Schneverdingen agreed to assist us in our ongoing breeding projects and take one of our best females from this litter in co-ownership with us.
This bitch should have in the future a litter in our kennel "Christi ORMOND", if she developed well and after this litter she lives in the kennel "True Soul Dalmatian" of Petra and Norbert Martin. There she lives as a family dog, brood bitch and show dog together with the Dalmatian bitch "Cara Mia Carina aus dem Leopoldstal". With these two dogs the kennel "True Soul Dalmatian" should be started. Petra and Norbert Martin visited our "Christi ORMOND E-litter" many times. We had made a joint decision. Our choice fell on the very promising "Christi ORMOND Exclusive Choise" (called Choise) because she was in character and type like her mother, "Mocha". Moreover it gave the impression that she also has all the advantages of her father, "Vic". Petra and Norbert Martin took "Choise" on 20.09.2008 in their new home and their 2-year-old Dalmatian bitch "Cara Mia Carina aus dem Leopoldstal" (called Tammy) was an outstanding teacher and playmate for "Choise". "Choise" developed very well exactly to our liking, what we saw for ourselves in our many visits.
Dog Show Premiere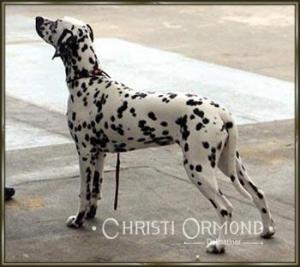 "Choise" had her dog show premiere on the National Dog Show in Rheinberg (Germany) on 15.02.2009, where she started in the puppy-class against 4 other competitor and she reached the 1st place with: very promising 1. Place. She also won against the best male puppy, her brother, "Christi ORMOND Exquisite Selection" (called Silas) and was voted for "BEST PUPPY".
The big fate blow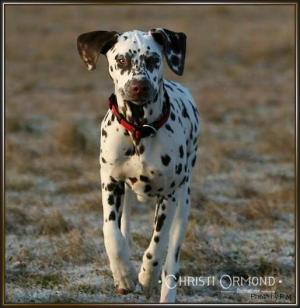 We received the shocking news of Petra and Norbert Martin, kennel "True Soul Dalmatians", only 5 days after her successfully show in Rheinberg, where "choice" was in good health, that they had to euthanized "Choise" at the age of 8 months. After repeated vomiting of "Choise" she was in the hospital. There was found an acute intestinal perforation with peritonitis. This was caused by a 4 cm long piece of wood, which "Choise" had a few days previously unnoticed swallowed. Despite the 2-hour operation, and 4-days stay in the hospital, our beloved "Choise" could not be saved. We mourn with the family Martin for this very wonderful, happy dog, who had grown up so beautifully, especially she was very similar with her mother "Mochaccino Dalmatian Dream", whether in character, as well as from the body ... a wonderful, noble image of her mother, even in some parts of the building even more and better pronounced. She was a great hope for our future breeding, to perpetuate this type and preservation of this wonderful, unique, extraordinary character.