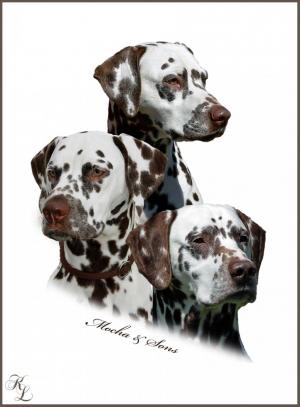 The focus of my breeding is from the Dalmatian region of Croatia - Dalmatia (former Yugoslavia breeds) to get this line as much as possible or to improve it. As a great lover of white / liver dalmatian I put into my breeding the focus of this colour.
In Particular, I attach much, importance in my breeding on as follow
Exquisite care family dogs, free of fear and aggression
Genetic health
Intelligence, instinct security, efficiency and easy in the leadership
Vigorous and strong bones
Rich, excellent pigment
clean and abundant spots
Expression and harmonious overall appearance, with balanced proportions
Powerful movement in the right sequence
In addition
audiometric tested with the result bilateral hearing
Hip Dysplasia tested
complete dentition
Lemon - Gene - examined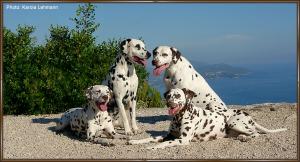 To reach the breeding successful, I try always a deliberate and thorough selection of parent animals. We breed according to the strict breeding regulations and guidelines of the Association for the German Kennel Club (VDH) and the Fédération Cynologique Internationale (FCI).
Furthermore, we have undergone further examination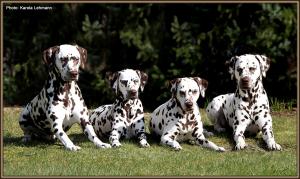 At our request was our kennel "Christ ORMOND Dalmatians" from Veterinary Celle assessed official veterinarian, checked our reliability (detection by providing a police clearance certificate) and expertise, with the result that we meet all the requirements for the state-approved authorization of permission for breeding of dogs in accordance with § 11 of the animal Welfare Act -Germany- are required and give us the permission was granted.
F.C.I. Kennel registration number 178 / 03