Our puppies see the light of day at our home. They are born in a so-called whelping box (according to breeding regulations). During the first days of their life the puppies stay with their mom in a heated whelping box, which is also lighted up by daylight.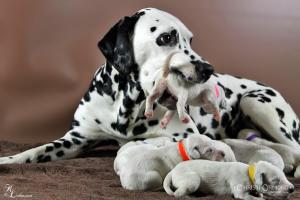 According to their age and weather conditions, our puppies are introduced to challenges of their environment and nature. Our kennel has an enclosed exterior area, which is camera monitored and furthermore, it is especially made for dogs. It has got a size of 570 square metres (about 613.6 square foot) and contains:
different types of training tunnels
various kinds of hoops and ramps
many dog toys
two open roofed over dog kennel runs with integrated doghouses
a roofed over, free accessible and insulated doghouse
which contains a kitchenette, a heating, a heated whelping box and a storage room
two big sunny terraces
Furthermore, our kennel has an enclosed terrace for dogs, which has got a size of 45 square meters (about 48.5 square foot) and is a part of the house. There you can find also a lot of dog toys.
Because of the already mentioned various dog areas, in and around the house, and the rural area we are living in, we have the possibility to make our dogs and puppies familiar with nature and therefore to imprint them typical to the breed. The dogs of our kennel "Christi ORMOND Dalmatians" grow up as a part of a complete pack (bitch and male dog).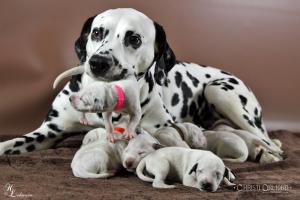 It is taken for granted that our dogs are subject to permanent control. Because of that, playing, feeding (various types of food), training (e.g. lead work) and the imprinting of the puppies by contacting humans is well realised.
We are an established kennel, which is visited by many interested parties, because of that, the puppies stay in further contact with people and the imprinting (visitors are playing with the puppies) is provided.
Since the age of 6 weeks, our puppies are transported to their first medical examinations and short trips with a big aluminium insulated dog trailer, which ensures that the puppies are familiar with travelling by car.
As you may read the page "About us" are in our home, "two kennels under one roof", the kennel of my wife Karola Lehmann "Dalmatian vom Teutoburger Wald" and my kennel "Christi ORMOND Dalmatians" because the love to our race brought us together.
In a video we want to introduce you to our kennels
Christi ORMOND Dalmatian (Michael Lehmann) and Dalmatian vom Teutoburger Wald (Karola Lehmann)
Scoure: DVD Meister Petz TV | In cooperation with the  Verband für das Deutsche Hundewesen (VDH) produces.
When you get them home, our puppies already have
Initial medical examination after birth by a veterinary and an audit by an authorised member of our kennel club
Triple worming
Basic immunisation (fivefold vaccination)
Implantation of a microchip, according to ISO standard 11784
BAER test / Hearing Assessment Testing (audiometry/deafness)
Final examination / audit by an authorised member of our kennel club
Dental x-ray of the puppy (recommended for future breeding - and show dogs) at the age of 9 weeks by a Veterinarian for dentistry - an additional charge -
When you get a puppy, you also receive
Initial puppy package (puppy food, a dog toy etc.)
VDH pedigree
Vaccination card (EU Pet Passport)
Copy of the BAER test / Hearing Assessment Testing
Copy of the protocol from the litter acceptance

Instructions for fresh feeding and information about the metabolism
Abridgement of our contractual obligations
Free support and advice
Guarantee of returning the puppy
Transport of the puppy for a fee (in Germany and also to other countries)
Breeding Objectives
The focus of my breeding is from the Dalmatian region of Croatia - Dalmatia (former Yugoslavia breeds) to get this line as much as possible or to improve it. As a great lover of white / liver dalmatian I put into my breeding the focus of this colour.
In Particular, I attach much, importance in my breeding on as follow
Exquisite care family dogs, free of fear and aggression
Genetic health
Intelligence, instinct security, Powerful and easy in the leadership
Vigorous and strong bones
Rich, excellent pigment
Clean and abundant spots
Expression and harmonious overall appearance, with balanced proportions
Powerful movement in the right sequence
In addition
Audiometric tested with the result bilateral hearing
Hip Dysplasia tested
Complete dentition
Genetic Examination
To reach the breeding successful, I try always a deliberate and thorough selection of parent animals. We breed according to the strict breeding regulations and guidelines of the Association for the German Kennel Club (VDH) and the Fédération Cynologique Internationale (FCI).
Furthermore, we have undergone further examination
At our request was our kennel "Christ ORMOND Dalmatians" from Veterinary Celle assessed official veterinarian, checked our reliability (detection by providing a police clearance certificate) and expertise, with the result that we meet all the requirements for the state-approved authorization of permission for breeding of dogs in accordance with § 11 of the animal Welfare Act -Germany- are required and give us the permission was granted.
F.C.I. Kennel registration number 178 / 03