A star is gone:
The tragedy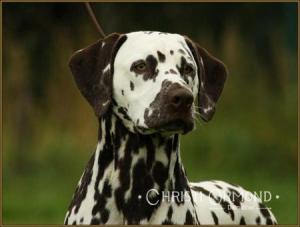 Our hearts are full of sadness, on 28. May 2013 at about 23.00 clock is a great "STAR" of us gone. His wonderful name is "Christi ORMOND Fascination Feeling" (called Lui). His name "Feeling Fascination" says everything about this wonderful dog. He was living with dear family Picard in North Rhine hard Pale. "Lui" could barely stand, he began to tremble. "Maren" did "Lui" to the vet, where he then convulsed and foaming at the mouth.
It was noted a poisoning. Probably blue corn or snail poison. "Maren" and I talked often on the phone and decided that he should not be put down, in part because doctors advised us to do so.
However, we wanted to give "Lui" the chance because "Lui" was not worse off at this time, he should decide itself. Unfortunately, he got shortness of breath at night, thus his condition deteriorated rapidly. The vet held consultation with "Maren" and they decided to euthanize him. Dear Maren, your decision was right! I stand fully behind it because our "Lui" has decided it is not to suffer.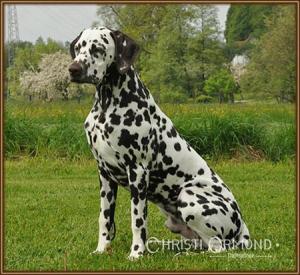 Well, dear people, what can I say: my face is suffused with tears and my heart aches, the neck is so thick that I want to scream in rage and pain. "Maren" is stunned and is completely beside herself that she had to let go her beloved "Lui". Every dog ​​is something special, but "Lui", was more than special. What a loss for the family and the German breeding! I am speechless!
My dear Maren, I embrace you from the bottom of my heart and I can not describe how sorry I am that you have unfortunately lost your "Lui".
Do not blame yourself, you were powerless and it was decided by a higher authority. There he is, our wonderful "Lui" up there and watching us, in between he plays determined with his sister "Christi ORMOND Exclusive Choise" (called Choise) and our "Lacrima Christi Cro A Porter" (called Porter). Let him go his way now, but think of your family and his beloved "Christi ORMOND Hypnotic Feeling" (called Whoopie) who need you urgently.
Soul dog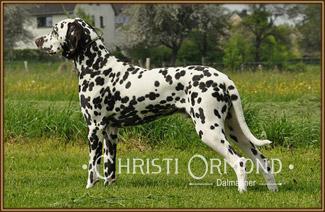 Soul dog, gives it only once?
Soul dogs has someone called ... you are unforgotten, because they have changed our lives and continue to live even after their death in us. We feel it in our thinking, our actions, our feelings.
Soul dogs has someone called ... Those dogs that are once in a lifetime, we were allowed to accompany and led us in other ways.Soul dogs has someone called ... Those dogs that were like a shadow, and the air we breathe, those dogs that got along without words. Not a day goes by without thinking of them without missing them. And dogs only people can understand how it is, so to lose a soul dog.
Author Antoine de Saint-Exupery
Our "Lui" always remains in our hearts ...
Michael Lehmann, Dalmatian breeder of the kennel "Christi ORMOND Dalmatians"