Seminar date:
Sunday, 2. April 2006 -

9:30

to

17:00
Report (in parts) of the 1st workshop for good dog handling and ring training, which took place on 2nd of April 2006 in Germany (Leopoldstal – North Rhine-Westphalia).
The idea for this workshop was developed by a member of the kennel club CDF (i.e. of a local association of the CDF: RV Mitte) last autumn and was already realised on 2nd of April.
High-level personalities were provided by the RV Mitte as consultants:
Jens Böhme, a qualified judge known for his fairness and for being a breed specialist.
Michael Lehmann, a breeder (Christi ORMOND Dalmatian) with experience and much success in the show ring.
From the beginning, both explained clearly their point of view about the important details, rules, terms and hints for the exhibitors during the theoretical part of the workshop.
The fact that Michael Lehmann showed how good a five month old puppy, called Benita, can be presented was very impressive. He showed how you can present a young and inexperienced dog with only a touch of empathy. She was presented by him on a covered table and Benita felt comfortable about doing this.
We are aware that the CDF is the only kennel club in Germany, which arranges such a workshop with ring training.
Text Owner: Irimbert May
Photo Impressions: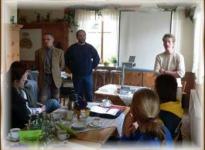 Here are some photo impressions of the 1. Dog Handling Seminar. The Dog Handling Seminars once or twice a year performed in the period from 09.30 - 17.00 clock. Consisting of theoretical & practical training. The seminar is limited to 10 participants, based on the grounds that a successful participation can be guaranteed. During the training, individual training is possible for certain processes. Each participant will receive a certificate of attendance. Every dog ​​should have a dog liability insurance. We welcome dogs of all breeds.
Here are some photo impressions (gallery). Please click on the photo.